Local Area
Great Orme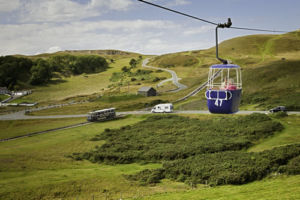 A gargantuan limestone headland reaching into the Irish sea. This huge historical lump of land is home to the oldest mines of Europe, it's also one of the first places in the area to have had human settlement. A colony of Kashmiri Goats have their home on the Orme and are one of its most characteristic features. On a clear day from the summit which is home to a summit complex and café, you can see the Isle of Man.
As you glide from the quaint coastal town up to the Great Orme Summit, experience moments of exhilaration and tranquillity as you take in the stunning aerial views of Llandudno on the Great Orme Cable Cars.
The highest point of the cable car is over 80 feet above the valley floor, perfect for taking panoramic photographs. Approximately 17 tons of four-seater cars are carried on an endless steel cable that is more than two miles long. In about nine minutes, a leisurely steel rope journey will bring you to the summit.
West Shore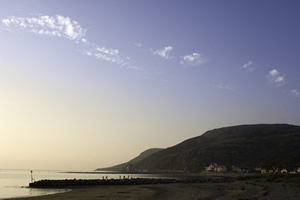 The gorgeous sandy west shore is Llandudno's lesser known, but arguably more beautiful beach. Enjoy views off towards puffin island and the lleyn peninsula – the ideal beach for a long view of a breathtaking sunset. The beach here has reeds, dunes and sweeping swathes of sand.
You can enjoy kite surfing and kite buggying on this beach due to its extensive shallow water and extensive sands at low tie. There is also a café with parking and toilet facilities by the beach. 
Promenade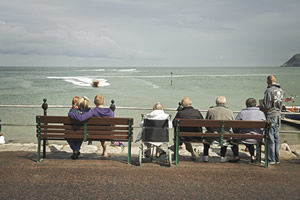 The grand Victorian promenade is one off Llandudno's key features, the prom is set between the stretch of seafront which extends between the Great Orme and the Little Orme. A family favourite for walking along and getting some fresh air.
The Promenade in Llandudno is an excellent place to walk along the seafront, enjoying the fresh air and peace and quiet. During weekends and public holidays, the area is filled with activities for everyone including small concerts and water sports. 
Venue Cymru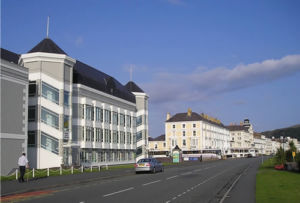 The 1500 seat theatre at Venue Cymru is one of the UK's leading receiving theatres. The program includes everything from operas to West End shows to comedy and pantomime. The theatre is surrounded by a multipurpose arena that attracts world-class performers for concerts and live music.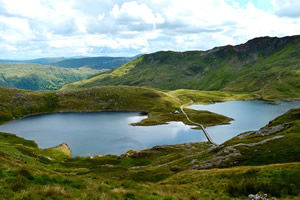 Snowdonia National Park
The National Park of Snowdonia has long been famed for it's wonderful scenery, which is all encompassing, from mountains, rivers, lakes, marshes, crags, forests and meadows. This is considered by many to be the most beautiful location in all the UK.
The landscape of Snowdonia is unique. A total of nine mountain ranges cover approximately 52% of the Park and include many peaks that rise over 3,000 feet (915m). Aside from its high mountains, Snowdonia is a delightfully diverse landscape filled with steep river gorges, waterfalls, and green valleys. The Park contains oak, ash, rowan and hazel woodlands as well as the beautiful Dyfi, Mawddach and Dwyryd estuaries which contribute to its overall diversity.
Bodnant Garden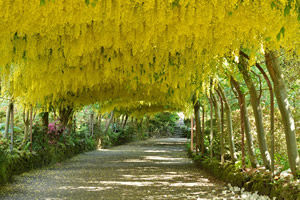 If you are visiting North Wales then make sure to visit the National Trust property, Bodnant Gardens. Located above the River Conwy on ground sloping toward the west and looking across the valley towards the Snowdonia range, the Bodnant Garden is one of the most beautiful gardens in the UK, spanning 80 acres.
It is the home of National Collections and Champion Trees. The Bodnant Garden has many gardens in one, with intimate corners, sweeping lawns, grand terraces, and verdant woodlands. This haven of rarity and beauty, set against a stunning backdrop of the Carneddau mountains, was built over 150 years ago by the McLaren family and Puddle Head gardeners. The gardens offer visitors a unique and memorable experience.
In the spring, you'll find daffodils, camellias, magnolias, and rhododendrons; in the summer, wildflowers, roses, and waterlilies; and a dazzling Winter Garden. Whatever the season, Bodnant Garden will not disappoint. 
The garden offers year-round colour, so you can use it however you wish. Whether for a hive of activity or a place of tranquillity and relaxation, you are sure to find it to be a special spot for all ages. With 80 acres of gardens and woodlands to explore, Bodnant Garden has a walk for everyone.
Zip World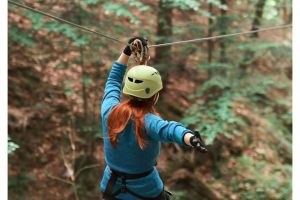 Zip World Penrhyn Quarry is located in the heart of Snowdonia National Park, offering breathtaking views of North Wales, exhilarating experiences, delicious food, and local ales.
With four parallel lines that span 1.5 kilometres over the beautiful blue water of Penrhyn Quarry lake, Velocity 2 is Zip World's most well-known adventure. It is the world's fastest and the world's longest zip line in Europe. It's the perfect activity for a group, as you and family, friends, or colleagues race to see who will cross the lake first, reaching speeds of up to and above 100 mph!
Kids can also take advantage of BIG RED, the UK's largest mobile zip line, located at Penrhyn Quarry, making this a great destination for families. 
You can also enjoy the thrill of going on the Quarry Karts. The UK's first mountain cart track. The karts are gravity-driven three-wheelers with a challenging course laid out in this historic slate quarry. You need to navigate chicanes, tunnels and a variety of obstacles to finish the course at a top speed of 40 mph.
With its idyllic woodland setting, Zip World Fforest offers all sorts of adventures in the beautiful Conwy Valley. Zip Safari takes you through the treetops, Treetop Nets will have you jumping and exploring to your heart's content, and Skyride will take you over the treetops. With Fforest Coaster, young adventurers can weave, dart and speed through the trees, and with Tree Hoppers, they can tackle the aerial obstacles and zip wires.
Adventure Parc Snowdonia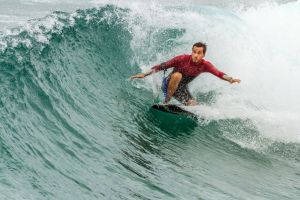 Snowdonia Adventure Parc is the only guaranteed surf break in the UK and a world-first inland surf lagoon. With the trees and mountains of Snowdonia as a backdrop and the advanced technology to create a variety of waves, you can learn to surf safely alongside the pros. This family-friendly training area offers expert surf tuition and reliable waves.
The adventure park offers one of the world's longest artificial caving courses, climbing walls, racer walls, leaps of faith, possibly the most extreme slides you've ever seen, an indoor high ropes course, a ninja assault course and parkour trails on the floor. You can enjoy this great day out regardless of the weather, and kids can enjoy a separate soft play area.
Guests can also choose from a variety of exhilarating outdoor activities on-site, including open water swimming, zip-lining and freefalling, outdoor adventure climbing, a pump track, and Carver skate bowl. 
Then after a full day of activities and adventure, why not relax and unwind at the Wave Garden Spa. Wave Garden Spa is connected directly to Hilton Garden Inn Snowdonia and Zephyr's Bar & Grill. Whether you're planning a romantic getaway, some alone time, or quality time spent with friends, you'll find everything you need here.
Llandudno Ski Slope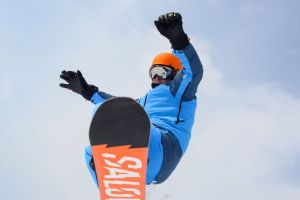 Can you imagine what it would be like to ski near a beach? Well, that's what you'll find in Llandudno! Llandudno is home to the amazing artificial ski slope, a place where kids and adults can have fun experiencing exhilarating adventures. Llandudno Ski and Snowboard Centre is an iconic winter sports destination situated approximately 415 feet above sea level. It's believed that the dry ski slope measures 280 metres long, making it Britain's longest toboggan run. 
Ski and snowboarding lessons are available for adults and children older than four years old. School and college packages are also available. You have the option of taking a private or group lesson. In group lessons, participants of similar abilities can advance through the skill level system together. Open skiing is available to experienced skiers.
While you are there, take the time to ride the 750m Cresta Toboggan, which is Wales' longest toboggan run. You will ascend 250m as your toboggan cart ascends the hill, providing you with stunning views of Llandudno bay.
This slope has everything you could need for a day of skiing or snowboarding, no matter what your skill level is. It is a popular destination for visitors.
Welsh Mountain Zoo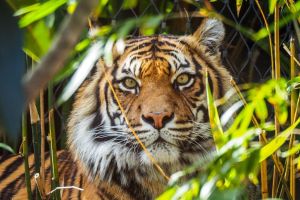 Set amidst the stunning scenery of Colwyn Bay and the Snowdonian Carneddau mountains, the Welsh Mountain Zoo is in an idyllic setting. The oldest zoo in Wales, it was established in 1963 as the vision of naturalist Robert Jackson. It didn't take the Welsh Mountain Zoo long to become a local attraction that was well-known for its conservation work. Located on 37 acres, it's one of the best things to see in North Wales for the whole family to enjoy. 
It is home to some of the world's biggest and most ferocious cats such as Sumatran tigers, snow leopards, and margays. Their enclosures are very large and reflect the natural environment in which they live. A trip to Welsh Mountain Zoo is a must if you love monkeys and apes. They have some of the world's best-known primates, including chimpanzees, but also some rarer ones like cotton-top tamarins and Goeldi's monkeys. You'll also meet lots of other mammals, including brown bears and meerkats. This North Wales zoo is also home to some colourful birds, including pink flamingos and the adorable Humboldt penguins.
We're confident that your kids will enjoy seeing all of these exotic animals, but we're especially confident that they'll enjoy going to the Children's Farm. This farm is filled with rabbits, guinea pigs, chickens and ducks so they can get up close and personal with them.
Llandudno Pier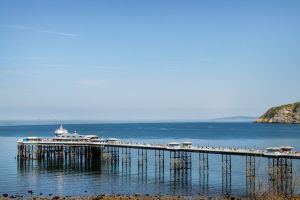 One of the best attractions to visit while on holiday in North Wales is the Llandudno Pier. With a length of 700 metres, it is the longest Pier in Wales and offers breathtaking views of the Irish Sea and North Wales Coast. Along with the breathtaking views, you can enjoy a variety of attractions on and near the pier with the whole family. 
The start of Llandudno Pier is lined with small shops selling drinks, ice creams, candy floss, and souvenirs representing the region. These stores are followed by a large arcade with classic arcade games such as "House of Dead" with light guns and penny machines. 
There are many stores along the arcade until the end of the pier. There is also a café on the pier that offers hot meals, sandwiches, cold drinks and hot drinks. Fishing is allowed on the fishing platform, giving you the chance to catch your food! Pier Landing Stage is open for fishing between 8 am and 6pm (off-season) and 8am to 10 pm10pm (main season). From the café, you can purchase fishing permits for £5 per person. 
With such a great location, it is no surprise that the Llandudno Pier is a well-loved attraction!
Great Orme Copper Mine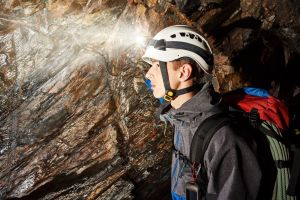 Visitors of all ages will find the Great Orme Mines to be both enjoyable and educational. A visit to the tunnels, which were mined out over 3,500 years ago, provides an insight into the difficult conditions our prehistoric ancestors faced while searching for copper. One of the most interesting parts of the tour is the Bronze Age Cavern, dug out over 3,500 years ago by miners using stone and bone tools.
It takes about 45 minutes to complete the self-guided tour. Visitors will be able to experience a five-minute introductory film, and a 200-metre underground section, as well as a walk through the smelting shelter and opencast mine. There is also a gift shop and a tea room with hot and cold beverages and snacks.
There are two levels of the 200-metre underground visitor route (about 50 steps down and about the same up again) which are reached through a series of slopes and staircases. Regardless of the weather above ground, you should wear warm clothing within the mine, as the temperature ranges from 5°C to 8°C. Because the ground is uneven and wet in some areas, it is recommended to wear sensible footwear. Underground, lighting is dim and there are low ceilings in certain sections of the mine, making it necessary to duck when walking through. To protect your head from bumps or scrapes, they provide visitors with hard hats.
Snowdon Mountain Railway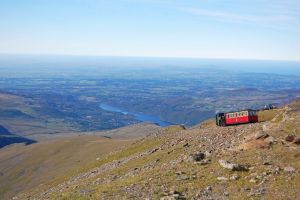 Experience a once in a lifetime adventure on the Snowdon Mountain Railway. Visitors to the Snowdonia National Park, at the foot of Snowdon, have a chance to experience an awe-inspiring journey up Snowdon, the highest peak in Wales since 1896 with the Snowdon Mountain Railway. There is something magical about every moment of the journey, from the first views of the waterfall plunging into the gorge at the start of the journey to the breathtaking views of Rocky Valley over the sheer edge.
Diesel carriages have a seating capacity of 60 passengers, eight per compartment, and are pulled by one of our Hunslet Engine Company diesel locomotives (1985). The railway is proud of its three-century heritage. To ensure that visitors to North Wales have the opportunity to continue to enjoy the unique Mountain Railway experience, modern diesel carriages were built and commissioned. From the 8th of April until the end of October, departures leave Llanberis every hour and every half hour (weather permitting).
Why not arrive at the Station at Llanberis a little before your scheduled departure time and check out the facilities. While you soak up the sights and sounds of billowing steam in the heart of Snowdonia, relax in the flower-lined forecourt and enjoy the views of the surrounding mountains.
Enjoy the stunning scenery and awe-inspiring views of North Wales on a day out on the Snowdon Mountain Railway with your family.
Llanberis Lake Railway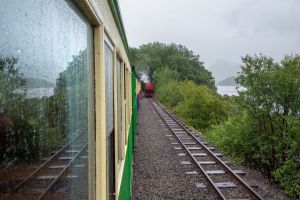 Take a journey alongside beautiful Llyn Padarn Lake, in the heart of Snowdonia on the Llanberis Lake Railway. At the foot of Snowdon itself in the little village of Llanberis, a scenic drive along Lake Padarn in the Snowdonia mountains begins. The narrow-gauge steam trains pass Dolbadarn Castle before entering Padarn Country Park and joining the historic lakeside slate railway built-in 1845. When the train reaches Penllyn, it is rewarded with magnificent views of the surrounding mountains. 
Visitors will be pulled along this timeless journey by Little Hunslet steam engines that were first used at the nearby Dinorwic Quarries. The trip takes about 60 minutes, and all advertised trains are scheduled to be hauled by one of their restored vintage steam engines rescued from Dinorwic slate quarries nearby.
Llanberis and Gilfach Ddu have level access to the trains, and every train has a coach that is specially adapted to accommodate wheelchair users.
Food and drinks are not available on the trains, but there is a 60-seat cafe with a patio and picnic area located at the main station in Gilfach Ddu, so you can stop for a bite to eat before or after your trip. 
Conwy Castle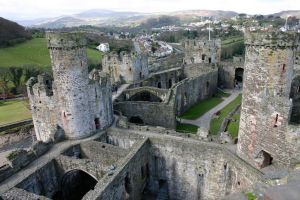 If you want to travel back in time then visit the magnificent Conwy Castle. This mediaeval fortress towers over the town after 700 years. The battlements of Conwy Castle can be walked around completely via the spiral staircases in its great towers. The castle is one of Europe's most beautiful mediaeval fortresses.
The walls of this picturesque town still surround the town for 1,400 yards. The walls and castle were built in a barely believable four years between 1283 and 1287 by Edward I and his architect Master James of St George. As compared to other great Edwardian castles, it is also relatively simple in design, reflecting the site's inherent strength.
The fortress is in exceptionally good condition. The mediaeval royal apartments are the most intact in Wales. More than 700 years after they were built, the curtain wall and its eight towers still stand as impressively as ever.
The views from the battlements are breathtaking. The craggy mountains of Snowdonia rise in the distance, and below them are the narrow streets and the harbour of Conwy. From these battlements, visitors can witness Conwy's rich history. So, if you can climb those stairs to experience the full Conwy experience. It's hard to imagine a better place in Britain to stand on the battlements and dream.